Property for Sale
The Pathfinder Village Board of Directors would like to welcome Timber Ghost Realty to Pathfinder Village.
On behalf of Aaron, Dominic, and the whole Timber Ghost family we would like to thank Pathfinder Village and the residents for an amazing first season! We sold our ENTIRE inventory from 2022! Because of our marketing efforts our listings spent an average of 52 days on the market. Half of our listings had accepted offers within 30 days! Many of the listings closed within 15 days of receiving an offer.
Spring market is here! Please reach out to Aaron or Dominic to get your FREE market analysis.
Sale Office Hours – Aaron and Dominic are in and out of the office primarily on the weekends. Please make an appointment to ensure availability. Thanks!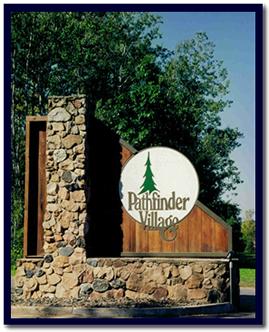 Greetings Pathfinder Village residents! On behalf of Timber Ghost Realty, We would like to say that our company as a whole is very excited for this partnership. Aaron Kontz & Dominic Sisley will be representing our brokerage in the Pathfinder Village sales office moving forward. If you have any questions regarding real estate, please reach out to them directly.
As an established real estate brokerage in recreational property sales, we pride ourselves in our ability to sell properties just like yours. Marketing and exposure to potential buyers is key when selling real estate. If buyers don't know your property is for sale, then how do they know they can purchase it? We will be marketing your properties on the Northstar Multiple Listing Service (MLS). This is the largest MLS in the state spanning from the southern border to the Iron Range. Marketing your properties on the Northstar MLS guarantees our clients the best exposure within the state. Along with the MLS your listings will be sent to over 80 national real estate websites which include Zillow, Trulia, Redfin, and Realtor.com. Another way we will market your properties is by advertising them at Minnesota based sports shows such as the Northwest Sports Show, Game Fair, Lake Home and Cabin Show, Super RV Show and the Minnesota Deer and Turkey Classic. These shows bring thousands of buyers who love the outdoors and are looking for property just like yours! As you can see our marketing plan will expose your property to 10's of thousands potential buyers and is second to none.
Along with our extensive marketing plan Aaron & Dominic offer a no obligation first time property visit, free comprehensive market analysis, and photography. They also has experience selling residential, commercial, lake homes, and raw land. Please feel free to reach out with any questions you may have about real estate in general. We look forward to meeting you!
"Listed my property with Timber Ghost in Feb 2022 and had a purchase agreement in approximately 30 days and closed in about 60 days. Quick service. Did a good job of displaying the property on their website. Thanks Timber Ghost."
Tony
View Pathfinder Village Website What is a Title Company? Benefits of Title Insurance